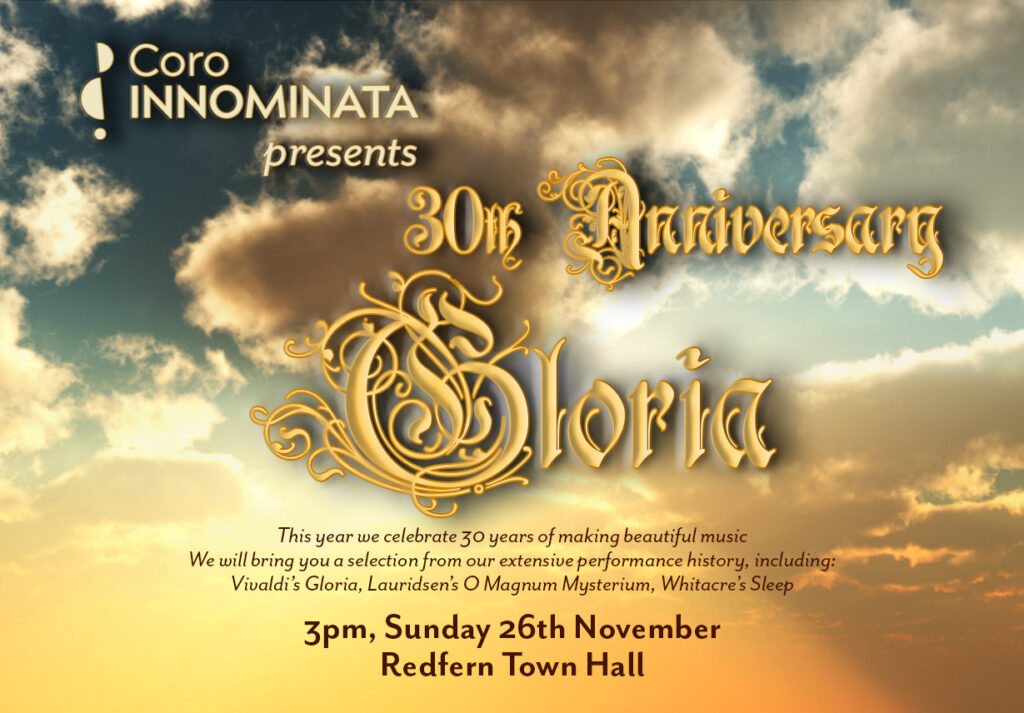 30 years of Innominata
SOLD OUT!
3pm, Sunday 26th November
Redfern Town Hall
This year we celebrate our pearl anniversary of making beautiful music. How time flies! In our celebration concert we will bring you a selection from our extensive performance history (and one or two new ones), including Vivaldi's Gloria, Lauridsen's O Magnum Mysterium and Whitacre's Sleep.
Stop press: we have sold out for the concert!
Calling past members! If you have sung with us, or know someone that has, we invite you to join us for the Gloria. Email us at coro@innominata.org and we'll send you details of the music, rehearsal and concert.
| | |
| --- | --- |
| O vos omnes | Gesualdo | Whitacre | Sleep |
| Illimina faciem tuam | Gesuado | Vaughan Williams | Sweet Day |
| Hear My Prayer | Purcell | Simpson | Gadigal Gili |
| O magnum mysterium | Lauridsen | Whitwell | She Walks in Beauty |
| O magnum mysterium | Victoria | Vivaldi | Gloria |
Redfern Town Hall
73 Pitt St, Redfern NSW