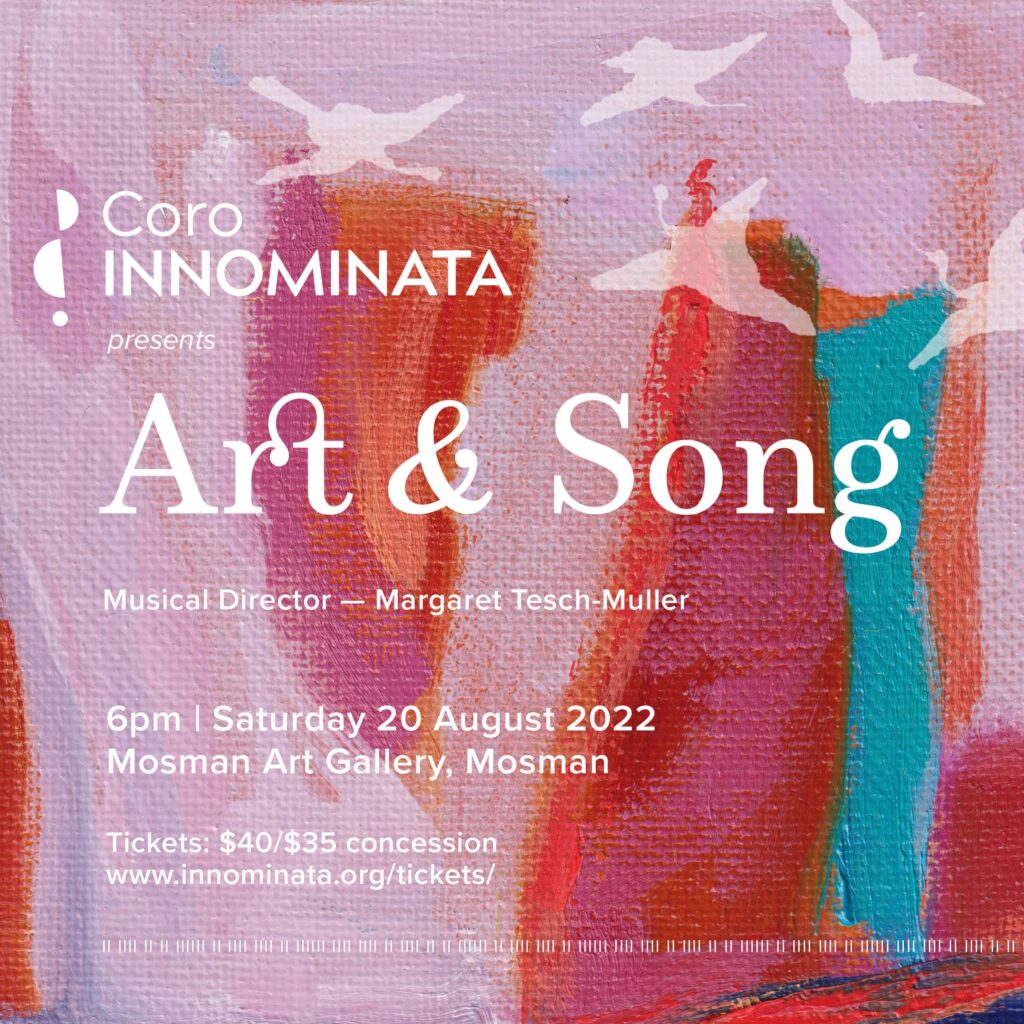 Art & Song
Saturday, 20 August 2022, 6PM
Mosman Art Gallery and Community Centre, Mosman
All audience members will be required to wear masks.
Music and visual arts have inspired each other throughout history. Painters have attempted to capture the passion of music on canvas, and composers have been transported by the art they see before them. Our concert explores this relationship in Romantic and Impressionist pieces and – most excitingly – the compositions of Janie Fitch and Aija Draguns, our Women Composers Development Program winners. We will perform their works alongside much loved pieces from Tchaikovsky, Tavener, Gjeilo, Maclean, Debussy and more.
This concert demands a world-class pianist to bring life to this beautiful program. We are honoured to welcome ANNA RUTKOWSKA-SCHOCK. Anna works as a professor at the Academy of Music in Wrocław and teaches at the Secondary Music School in Wrocław. Her performing career began as a teenager in 1992 and In 1996, she was the Laureate of the Piano Festival in Słupsk, Poland. In 1997, she was awarded a scholarship to attend Boise State University (Idaho, USA). With more than 50 awards on her mantelpiece, many for musical collaboration she stands out both as a performer and performance partner.
In 2016 Anna joined an Australian chamber music group named The Hourglass Ensemble with which she has taken part in concerts in Poland, Austria, Germany, Switzerland and Australia. Each project is crowned with a performance at Sydney Opera House. The ensemble has also performed live on-air with an interview on the radio station Fine Music 102.5 in Australia. So far Anna has performed on five continents, with people from about 40 different countries.
The Spheres | Ola Gjeilo
Hymn of the Cherubim | Tchaikovsky
La Demoiselle Élue | Claude Debussy
The Lamb | John Tavener
A New Jerusalem | Janie Fitch
Pictures at an exHERbition | Sally Whitwell
Putns ar uguns spārniem | Aija Draguns
Agnus Dei | Clare Maclean
E Granados | Quejas o la Maja y el Ruisenor
from Goyescas
F Liszt/R Schumann | Widmung
N Dett | His song from the suite In the bottoms
F. Mendelssohn Bartholdy | Song without words
in F major op. 85 nr 1
Mosman Art Gallery and Community Centre
1 Art Gallery Way, Mosman 2088